Having a Good Week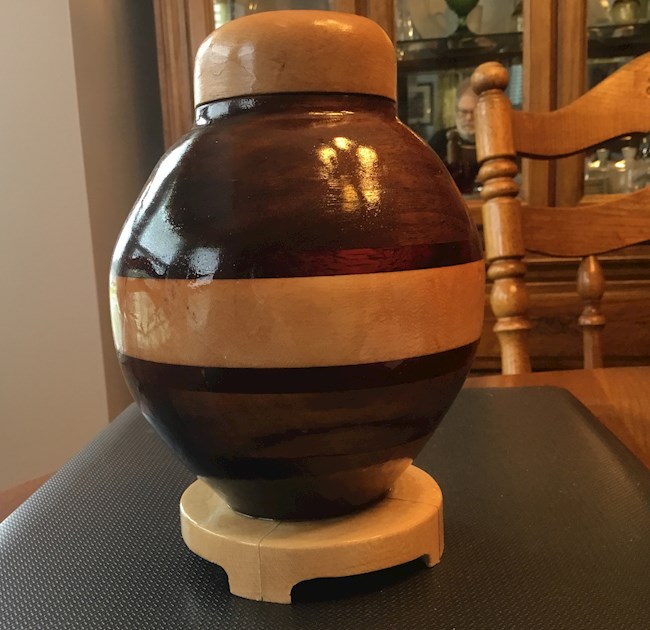 This has been a good week. The weather, for the most part, has been warm and beautiful, something that goes a long way toward ensuring I have decent cognitive functioning. Also this week I completed a project that my wife's friend asked about some months ago, making her an urn for her cremains. I told her that my skills were deteriorating rapidly but I would give it a go.
So, at the beginning of this week, I started the urn. It is a scroll saw urn. Meaning that the wood is cut into equally thick rings on a specified angle. Each just a bit smaller in diameter than the one above or below, depending on whether it's the top or bottom. The rings are then glued together as concentrically as possible and then the fun begins. Freehand sanding. The final shape of this urn is more or less predetermined by the angle the wooden rings were cut on and the thickness of the wood but the final shape in your minds eye when you begin the sanding process is what determines the true final shape. For instance, the original, the one she dashed based her request on, was much more squatting, more rounded, shorter. But, to me anyway, the differences don't detract from the pieces, it adds to its individuality.
Having a relatively clear week truly made this leess frustrating than it could have been. Sure I made the wrong cuts on several occasions and had to recut that piece but the error rate was less than normal. The quality of workmanship on this project was well below that of the 1st but I'm just thrilled I could complete it at all. Two months ago when the weather was at its lowest temps, there is no way I could have completed this project. Now, for the time being, it was a joy and a blessing to be able to complete a project again with some degree of confidence.